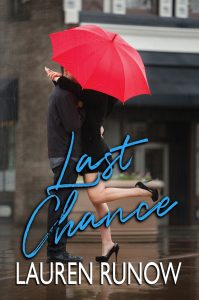 Last Chance is a story of love and heartache proving that life is not always fair, but it's worth the pain to get the moments you'll treasure forever.
Mackenzie
From the very first moment I laid eyes on him, I knew my heart was his for the taking. He was the boy who filled me with butterflies and made my palms turn clammy at the mere sight of him.
There was only one problem… he was my best friend's older brother.
It's been eight years since I've last seen him, and I refuse to live another day without telling him the truth. So here I stand, taking my last chance to get him to notice me, my last chance to see if he feels the same way.
I need to know if he is just a fantasy, or if he could be my reality…
Before my reality changes forever.
Connor
I never wanted a girlfriend; I was burned by love and vowed to never go down that road again. But when the beautiful girl I've known practically my entire life snuck her way into my arms there was something that changed in me. I wanted to be with her, next to her. Just simply kissing her lips made my life complete.
Now I have one mission.
To make hers complete, too.


Lauren Runow is the author of multiple Adult Contemporary Romance novels, some more dirty than others. When Lauren isn't writing, you'll find her listening to music, at her local CrossFit, reading, or at the baseball field with her boys. Her only vice is coffee, and she swears it makes her a better mom!
Lauren is a graduate from the Academy of Art in San Francisco and is the founder and co-owner of the community magazine she and her husband publish. She lives in Northern California with her husband and two sons.
You can also stay in touch through the social media links below.
Facebook at https://www.facebook.com/laurenjrunow
Instagram at https://instagram.com/Lauren_Runow/
BookBub at https://www.bookbub.com/authors/laure…
Twitter at https://twitter.com/LaurenRunow
Join her reader group: https://www.facebook.com/groups/16285…
or sign up for her newsletter at http://eepurl.com/btD6j9

Layne's Review:
I received this book in return of a review.
This book has a beautiful story to be shared with everyone. It shows love isn't always easy or perfect for everyone, but you make the best of it.
Mackenzie is a beautiful person who is truly living life to the fullest every day. Everyone should live like that!
Connor is her best friend's older brother that she has a huge crush on since the day they met. Funny thing when she finally puts her feelings out there, he doesn't hesitate to get to know her more and on a different level than "my little sister's best friend".
Their story is so beautiful and meaningful – I've never cried while reading a book, but this one got me!
I would recommend this book to anyone -this book was just released – don't wait to read it!!